High-Level Official Visit to the Basic Court of Prishtina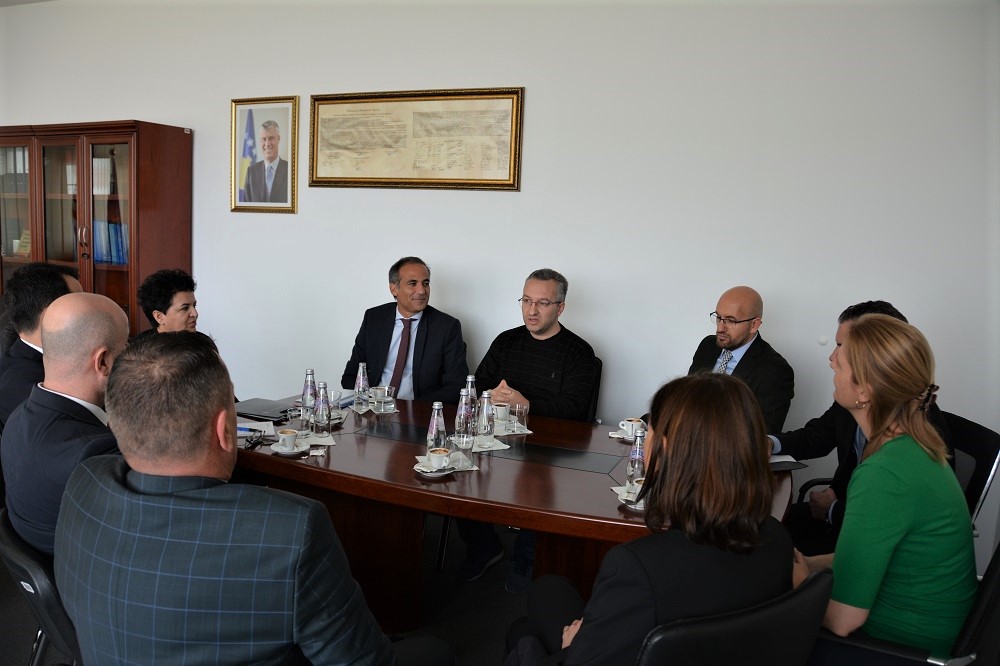 The EU-funded project "National Centralized Criminal Records in Kosovo" in cooperation with the EU Office in Kosovo and the Kosovo Judicial Council, have organized a High-Level Official Visit to the Basic Court of Prishtina on Tuesday, November 19, 2019 at the premises Basic Court of Prishtina.
The aim of this visit was to discuss developments and achievements in the operationalization and digitalization of the Criminal Records Database/NCCR and to bring together high-level representatives from the EUO, KJC and the Basic Court of Prishtina to discuss about the importance of enhancing the use of technology in the Courts, including the functionalization of the NCCR system in the courts and CMIS, while delivering messages about the transition phase of NCCR project and the need to have the courts more involved in taking over the system.
EU Deputy Ambassador, Mr Riccardo Serri, accompanied by Mr. SkenderCocaj, Chair of KJC, and Ms AferditaBytyci, President of Prishtina Basic Court, together with representatives from the NCCR project team, visited the Criminal Registry Office, the Court Archive, and the office where the temporary legal clerks of the project operate, and discussed about the important impact that the NCCR system has in improving the Kosovo judiciary standards.
During the visit they had the chance to witness first-hand the process of entering the criminal conviction data in the NCCR system by the temporary legal clerks and the court staff trained to operate the system. Mr Cocaj and Ms Bytyci pledged the the KJC and the courts will take the necessary organizational steps in order to ensure that by the end of 2019 all the courts will start entering new cases in the NCCR system. This is an essential step in ensuring the sustainability of the NCCR system in future.
The National Centralized Criminal Records System in Kosovo, is an EU-funded project that aims to provide support on the completion of the policy, legal and administrative framework and technical set-up for the establishment and implementation of a National Centralized Criminal Records Registry (NCCR), in order to ensure the establishment of a fully functional Registry at central and courts level and ensuring the issue of the reliable conviction certificates through the system in line with international standards and ECRIS requirements. The project is managed by the EU Office in Kosovo and implemented by a consortium led by Kosovo Legal Services Company.